Chairs
info_outline
This is the recommended retail price of the supplier.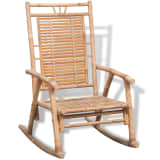 OOPS, the product you are looking for is out of stock. Please find similar products here.
Chairs in all shapes and sizes
If you are looking for a high-quality chair, vidaXL has got your seating needs covered. You will find a wide range of dining chairs, bar stools, armchairs, rocking chairs and even massage chairs. We strive to keep our range as varied as possible by choosing varied materials, colors and designs.
Choose a chair that will give you the correct sitting posture
Seating comfort is one of the most important characteristics for a chair. Nobody likes an uncomfortable chair! There are many things to consider when choosing your perfect chair. One of them is the height of the chair. It is important that you can place both feet flat on the ground when seated. Another thing to consider is the chair's padding. This must have just the right amount of softness for you to be comfortable. In addition, some people want a chair with arm rests or a high backrest, but that is a matter of personal preference. Luckily for you … here at vidaXL, we have it all!
A chair for every interior
Here at vidaXL, you will find a huge assortment of chairs. From elegant dining chairs to eye-catching tubular chairs, from stylish bar stools to butterfly or massage chairs, we really do have it all. Combining styles is all the rage right now. Match a classic wooden dining table with white, tubular framed chairs to create your own eclectic look. This combination will keep your interior interesting and unique. The same goes for a classic living room set. You could introduce a matching arm chair; however, you could also experiment with another style to create a striking effect!
Bar stools for your high dining table
If you have a high dining table or a breakfast bar, you are going to need some fabulous and stylish new bar stools! These chairs are often adjustable in height, making it easy for everyone to reach the table. Play it safe with a white or black variant, or go a little crazy with a color that that draws your eye!