Free delivery on all products
Bohemian interior style
A colourful and eclectic interior with a personal touch
A bohemian interior will feel like you're on holiday in your own home. This interior design style is filled with vibrant colours, natural materials, textures and bold patterns. It's also the ideal style to add all the items you've collected during your travels. If you want to let your creativity run wild: bohemian is the interior style for you!
Bright colours and bold patterns

The use of colours and patterns is very important in a boho interior. Bohemian is an eclectic style where anything goes. Don't be afraid of unexpected combinations! Earth tones are often combined with jewel tones and bright metallics as accent colours. Wallpaper with a bold print, rugs, throw pillows and blankets let your personality shine through. If you really want your interior to breathe bohemian, add a tapestry in your living room or bedroom.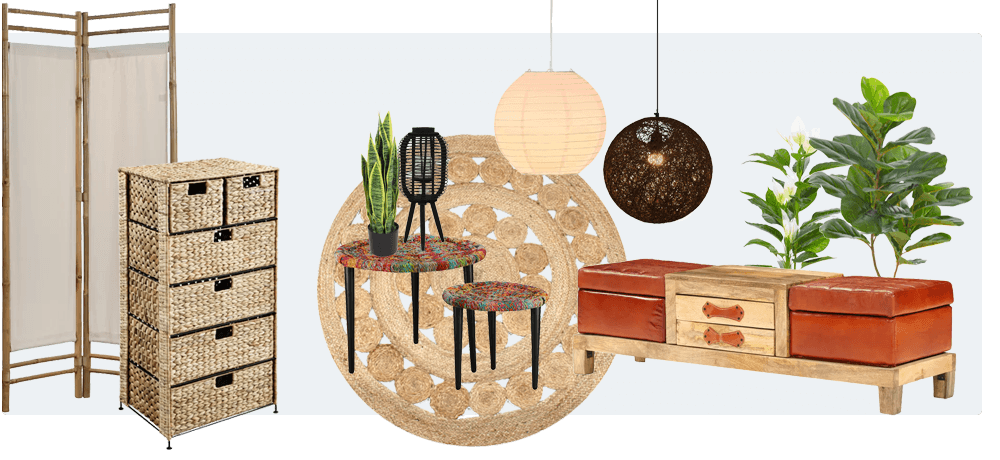 Bohemian furniture & accessories

There are no two bohemian interiors that look exactly the same. This is the perfect style if you want to create something unique. Boho furniture is made of natural materials such as rattan, bamboo, wicker, jute, sisal and recycled wood. This style allows you to experience the places you've travelled all over again by displaying these accessories in a nice cabinet or on a side table.



See all styles for 2020