Sofas
info_outline
This is the recommended retail price of the supplier.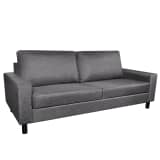 OOPS, the product you are looking for is out of stock. Please find similar products here.
Comfortable sofas at vidaXL
A living room without a sofa is like a hotdog without a sausage …. completely unacceptable! The sofa becomes the focal point of the room and ties all the other furniture within the space together. Add some fabulous new chairs and a beautiful rug. Before you know it, you are done! If you are looking for a comfortable couch, this really is the place to be. You will find several high-quality corner sofas, fantastic sofa beds and amazing two or three seater sofas, all here at vidaXL.
Choosing the right sofa
Picking a new sofa is often quite the challenge. There are just so many options to choose from. Firstly, consider the shape of the sofa. You can choose a two or three-seater sofa, however, a corner sofa is also very popular these days. With a corner sofa, it is not strictly necessary to add a chair to sit beside this new piece of furniture, as the sofa already has many seats. Also, sofas are made from a vast variety of materials. What you choose depends on personal preferences. A leather couch can look very luxurious, but to some people it might feel cold. Lastly, keep the measurements of your sofa into account. Pick a nice spot in the living room and carefully measure how much space there is. We wish you the best of luck, however, we are sure you will make the right decision!
Picking the right decorations
Now you have chosen a couch it is time to get decorating. This might sound strange, but a few pillows or a decorative plaid can make your sofa even more beautiful. A sofa in a neutral color can be livened up with a few colorful pillows with or without print. A warm plaid over the armrest looks fantastic, but is also a terrific addition for when it's cold at night. Have fun accessorizing, here at vidaXL!